This post may contain affiliate links. Please read our Disclaimer for more info.
Blooom is a Kansas City based robo-advisor service. They are carving out a unique fintech niche in workplace retirement plans.
Blooom exclusively manages defined employee contribution plans, including 401(k), 403(b), 401(a), 457, and the Thrift Savings Plan. At the time of publishing, Blooom has over 2 billion dollars of retirement plan investments under management.
Is Blooom worth it as a robo-advisor for you to build your best retirement plan?
Read on to find out in this Thrifty Enough Blooom review!
Blooom Snapshot
Free Analysis of Your Retirement Account
Blooom offers a free analysis of your retirement account. You can create a free Blooom account and connect your qualifying retirement account using their secure site.
Blooom will then use their proprietary algorithm to analyze your retirement investment portfolio, including your current asset allocation, level of diversification, and fees. The analysis will provide free feedback on your existing allocation and suggest potential areas for improvement.
Signing Up For Blooom's Services
If you sign up for Blooom's services, they will charge you a monthly fee paid by credit or debit card. They do not deduct money from your retirement account balances.
Blooom will adjust the investment allocations of your qualifying retirement account within 30 days using the following process:
Blooom's algorithm recommends a target investment portfolio, which you can manually adjust by using your age and expected retirement date.
Blooom takes a look "under the hood" to classify each of the investment options in your retirement account into one of up to 14 different classes of assets.
Blooom's algorithm determines which of the up to 14 asset classes offered by your retirement account should be included in your portfolio to achieve the targeted allocation of assets.
After the individual options within the available asset classes have been analyzed, Blooom chooses the investment option within each asset class that will make up your portfolio. Blooom emphasizes index funds its choices but does recommend some actively managed funds in the absence of index options.
Your Blooom advisor takes another look at the algorithm's recommended portfolio before approving it. Blooom then implements the portfolio for you on your behalf within 30 days.
After You've Signed Up For Blooom 401k Robo-Advisor Services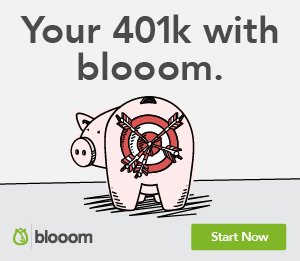 Blooom acts on your behalf in creating and implementing your portfolio. But you maintain control of your retirement plan and can still request changes through the administrator of your plan.
Blooom reviews your portfolio every 90 days and performs automatic rebalancing based on your target asset allocations. If you make changes to your target allocation through your online account, Blooom implements those changes you've made at that time. They also automatically adjust your stock and bond exposure over time as you age.
Personalized Support
In addition to Blooom's robo-advisor services for workplace retirement accounts, Blooom's licensed and certified financial advisors answer personal finance questions by email or chat.
Pros
Professional Management with a Fiduciary Relationship: Blooom is a registered investment advisory (RIA) firm, which requires them to act as a fiduciary on your behalf.
Low Fees: Their monthly fees are relatively low, and they are not based on the amount of money you have in your account. This means your advisory fees would actually get lower over time as a percentage of the overall value of your portfolio.
Focus on Indexing and Diversification: Blooom's algorithm and advisors generally pick low-fee index funds to build a portfolio including up to 14 different asset classes.
Adjustable Allocation: Unlike many robo-advisor services, Blooom lets you make changes to your investments.
Age-Based Adjustments: As you age, Blooom shifts your asset allocation to decrease stock exposure and increases your bond allocation.
Rebalancing: Blooom reviews your portfolio quarterly to ensure your portfolio is remaining within the targeted allocations. They make any necessary changes automatically to adjust for current market valuations, which could statistically result in an increased annual return over time.
Personalized Support: The additional support Blooom provides on personal finance topics is fairly unique within the robo-advisor space.
Cons
Limited Scope of Services: Blooom's services are currently limited to workplace retirement plans. If you have other retirement plans or taxable accounts, you'd have to look elsewhere for robo-management of those accounts.
Risk Tolerance: Blooom's algorithm determines your target asset allocation using (1) your current age and (2) your desired retirement age. You can manually adjust your recommended asset allocation manually. However, the two factors considered in the algorithm only represent two of the many factors an average investor might have affecting their risk tolerance.
Is Blooom Worth It?
Blooom's fiduciary relationship as a professional management firm, relatively low fees, index based approaching, and personalized support provide a unique opportunity for the passive employee retirement account investor to reap the potential benefits of a robo-advisor service.
You should be aware that Blooom's algorithm limits its approach to assessing risk tolerances and allocating investments based on your current age and desired retirement age. You may want to consider additional variables in establishing your own target allocation.
We're hopeful that, as Blooom grows, they might seek to expand their offerings in the future to include non-employee retirement accounts and taxable accounts.
The Money Mix's Blooom Rating: 4.5 / 5
Blooom Promo Code
Here's where you can get a special rate for 1 year for just $99 The Money Mix readers with Blooom promo code REEETIRE)!